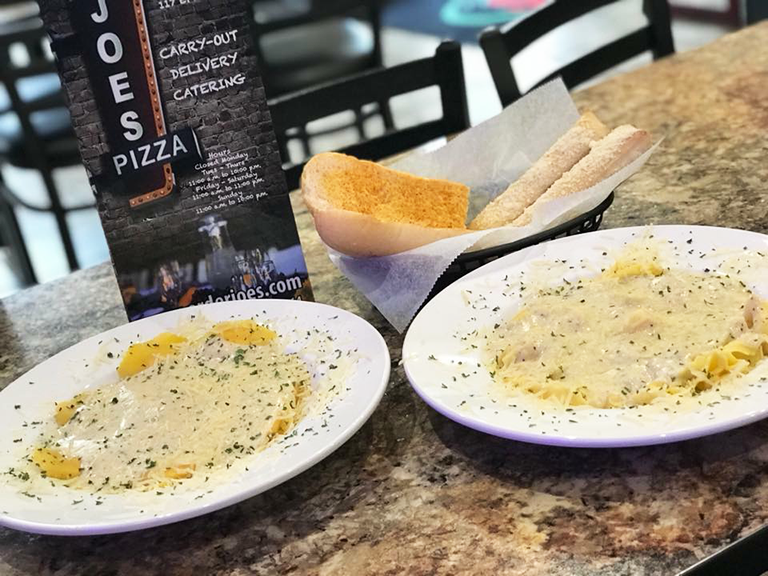 5775 Godfrey Road
,
Godfrey
,
Illinois
62035
In a culinary world often dominated by fleeting trends and generic flavors, Joe's Pizzas and Pastas offers a truly unique dining experience. The secret to its unparalleled taste lies in the cherished recipes of the Trupiano family. Preserved through generations, these recipes lend an authentic, one-of-a-kind flavor to the dishes, distinguishing Joe's from any other pizza and pasta place one might encounter.
Every pizza crafted at Joe's is a tribute to the traditional art of Italian baking. From the dough, hand-kneaded and allowed to rise in the warmth of a traditional kitchen, to the rich tomato sauce, prepared according to the Trupiano family recipe, each ingredient is carefully selected and expertly combined. Topped with the freshest of produce and the finest of cheeses, each pizza is then cooked to perfection in the oven, resulting in a blend of flavors that cannot be found anywhere else.
Similarly, Joe's pastas stand testament to the culinary wisdom of the Trupiano family. Each pasta dish encapsulates the essence of Italian cuisine, with sauces simmered to perfection using the secret family recipes. Whether it's the perfectly al dente spaghetti tossed in a classic marinara sauce or the creamy fettuccine alfredo, every bite carries the mark of authenticity that is uniquely Joe's.
By adhering strictly to these time-tested recipes, Joe's Pizzas and Pastas has been able to maintain the distinctive flavors that its patrons have come to love and expect. It's not just about serving a meal; it's about preserving a culinary legacy, sharing a piece of the Trupiano family heritage with every guest, and providing an unparalleled taste experience that truly cannot be found anywhere else.
Photos