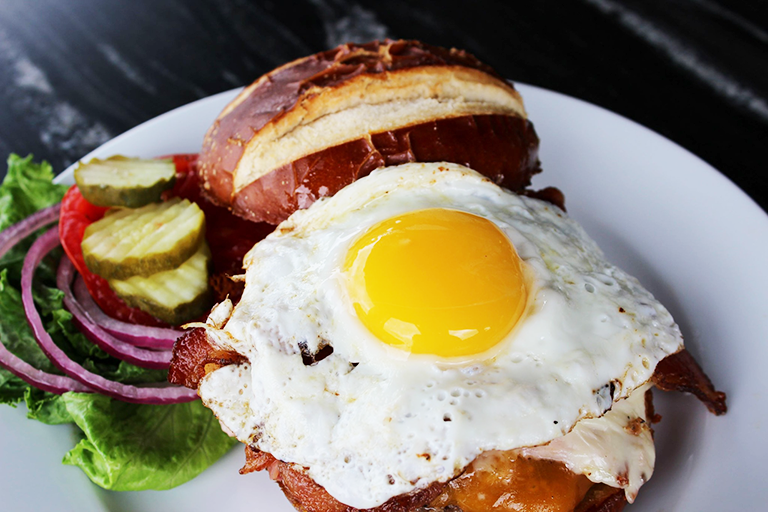 3043 Godfrey Rd
,
Godfrey
,
Illinois
62035
Scot Roper, the personable proprietor of Roper's Regal Beagle, extends a warm and genuine invitation for all to step inside his friendly establishment and make themselves at home. Roper's Regal Beagle, a bustling hub of social activity, isn't just an ordinary eatery, it's a venue that encapsulates a vision of community, comfort, and culinary delight.
Within the inviting confines of the Regal Beagle, multiple big-screen televisions dot the walls. These screens light up with various sporting events, making the Beagle a favored spot for game enthusiasts who enjoy the camaraderie of cheering for their teams in a communal setting. The televisions also serve to provide an engaging backdrop for casual diners, contributing to a vibrant yet comfortable ambiance.
Roper's Regal Beagle prides itself on its impressive selection of beers. With 21 options on tap, it offers a veritable playground for beer lovers. Each draught, carefully selected, ranges from locally brewed craft beers that showcase the region's brewing prowess to globally acclaimed brands, catering to a multitude of tastes and preferences.
But the true star at the Beagle is undoubtedly the food. The menu offers an expansive range of culinary delights, designed to satisfy various palates. Whether guests are in the mood for a sizzling steak, cooked to perfection and promising a savory experience, or a perfectly baked pizza, with a delightful blend of toppings and a crust that hits the right balance between crispy and chewy, Roper's Regal Beagle delivers. The establishment's commitment to quality ingredients and expert preparation ensures that every dish is a testament to its culinary dedication.
In essence, Scot Roper's invitation isn't merely to a restaurant; it's an invitation to a welcoming atmosphere, a commitment to quality and, above all, a memorable experience. At Roper's Regal Beagle, it's not just about the meal, the drink, or the game on the screen, but the sense of community and comfort that keeps patrons coming back.
Events
December 31, 2023, 8:00 pm
-
2:00 am
Photos